We want to hear from you! Below are opportunities for community members to get involved.
Advisory Committee on Boundaries and Student Assignment
The Advisory Committee on Boundaries and Student Assignment is a group of education stakeholders from all eight wards of Washington, DC who will meet monthly in the evenings through December 2023 to create recommendations for attendance zones, feeder patterns, and school assignment policies. Learn more about their work and view meeting materials posted on the Advisory Committee section of this site.
The next Advisory Committee meeting is scheduled for June 21, 2023.
Virtual Town Hall Series
View recordings and materials from the May town halls. Participants heard an overview of the study process, goals, timeline, and provided feedback about guiding principles and challenges around clear student assignments to by-right schools and feeder pathways.
Additional town halls covering different information will be held in summer and fall. Follow the DME on social media (@DMEforDC on twitter and @DMEforDC on Instagram) for information about times and locations of engagement opportunities, an check back here.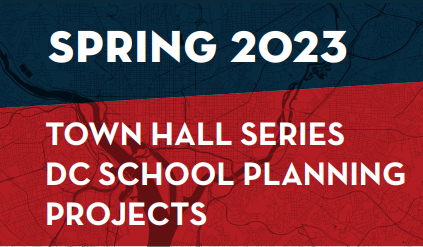 General Feedback
Can't make it to one of the town halls? Fill out this feedback form.
If you have additional questions or comments, please reach out to the DME's planning and analysis team.