View a variety of resources to visualize and assess education-related information for both DCPS and public charter schools.
The Office of the Deputy Mayor for Education is committed to providing data and information about the District's public schools and students for education stakeholders and the public at large. Email us if you would like to receive occasional updates.
SY2018-19 INTERACTIVE SCHOOL FACILITIES MAP

The
interactive map
allows users to find the locations of all public schools (DCPS and public charters) and their facilities for SY2018-19, identifying the new public charter schools as well as where DCPS schools are temporarily relocating during modernization ("swinging"). The DME also provides a table identifying the schools with new additional grades for SY2018-19.
SY2016-17 FACT SHEETS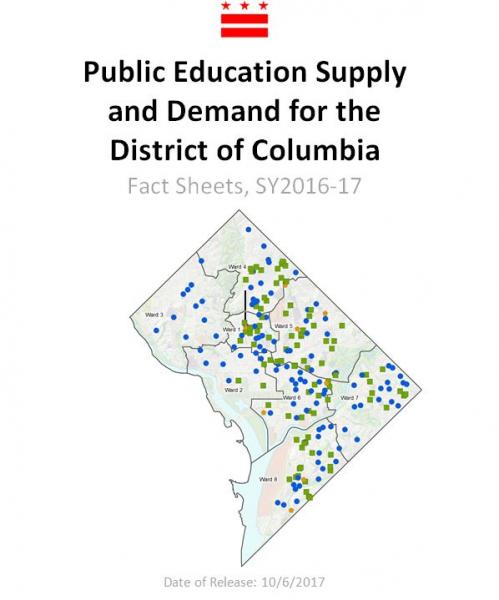 The
SY2016-17 Fact Sheets
describe the District's public schools and the students attending them. The fact sheets contain information such as number, location, enrollment, capacities, and academic programs of our public schools, as well as information about the characteristics of our public school students and where they live. Citywide education trends are provided, as well as trends for individual grade levels (elementary, middle, and high).


SY2016-17 DCPS UTILIZATION RATES AND IN-BOUNDARY PERCENTAGES
Interactive map
showing the Utilization Rates of DCPS school facilities and In-boundary percentages of DCPS schools for SY2016-17. Utilization Rates are displayed for both permanent and portable capacities, as well as for just permanent capacities.