Thursday, February 23, 2023
(Washington, DC) –Today, Deputy Mayor for Education Paul Kihn released the following statement on Mayor Muriel Bowser's investment for DC's public schools as part of her Fiscal Year 2024 budget proposal, and the release of initial DC Public Schools (DCPS) individual school budgets.

"Thanks to the leadership of Mayor Bowser, our public education system continues to be a pillar of the District's budget. The Mayor has made another historic investment in our students and educators, adding $144 million directly to schools through a 5.05% increase to the UPSFF.

"The Mayor, Chancellor Ferebee, and I fundamentally believe that equity, and a distribution of resources to students and schools that need them most, must drive our budgeting process. We know from a robust community engagement process in 2020 that the community and the Council share our commitment to equity. Equity means that we dedicate more resources to those with higher needs, and that is reflected in the updated DCPS budget model that went into effect last year.
"The facts remain that thanks to the Mayor's continued investments in our public education system, 72 DCPS schools will see increases to their recurring budgets, representing a majority of our DCPS schools. This budget reflects our commitment to ensuring funds follow the students who need them most.
"Of course, we always understood that transitioning from the Comprehensive Staffing Model to the equity-based model would come with an adjustment period. Last year, we fortunately were able to mitigate the impact and hold schools fully harmless. With recovery funds winding down in school budgets, we understand the concerns being voiced by some school communities, especially those schools that have a larger number of at-risk students transitioning to other schools. As we move through the budget process, we will continue to work with schools to respond to concerns while also implementing this more equitable budget model.
"We are incredibly proud of our schools, and we are grateful for everyone – educators, advocates, and elected leaders – who worked with us to create a budget model that prioritizes equity, while also providing a 95% stability baseline for schools. We will continue to be responsive to the needs of our school communities as we build not only the fastest improving, but the best urban school district in the nation."
DCPS Budget Facts
72 of the 117 DCPS schools will see increases to their recurring budgets from FY23
Of those 72 schools, 18 have declining overall enrollment but increasing student needs driving the increases in their budgets
11 schools with increasing enrollments will see reductions to their recurring budgets – this is due to a shift in the make-up of their student population (e.g., fewer students requiring special education services).
The Mayor's FY24 budget proposal includes a 5.05% increase to the uniform per student funding formula (UPSFF) foundation level for Fiscal Year 2024, for a total of more than $2.3 billion in per-pupil funding, adding $144 million directly into DCPS and public charter schools over last year's amount. Together, with the Mayor's Recovery Fund and other education investments, the budget will comprise a $2.4 billion investment in our public education system and will represent a 10% increase overall over last year's investment and a 50% increase from Fiscal Year 2018.
Last year, many DCPS schools that were projected to experience enrollment declines received one-time payments in order to promote stability at an unprecedented time for our communities and to support returning to in-person learning. The District has offset the loss of federal one-time funds with local stability dollars. The DCPS budget model provides 95% stability against schools' total FY23 budgets, including one-time local funds.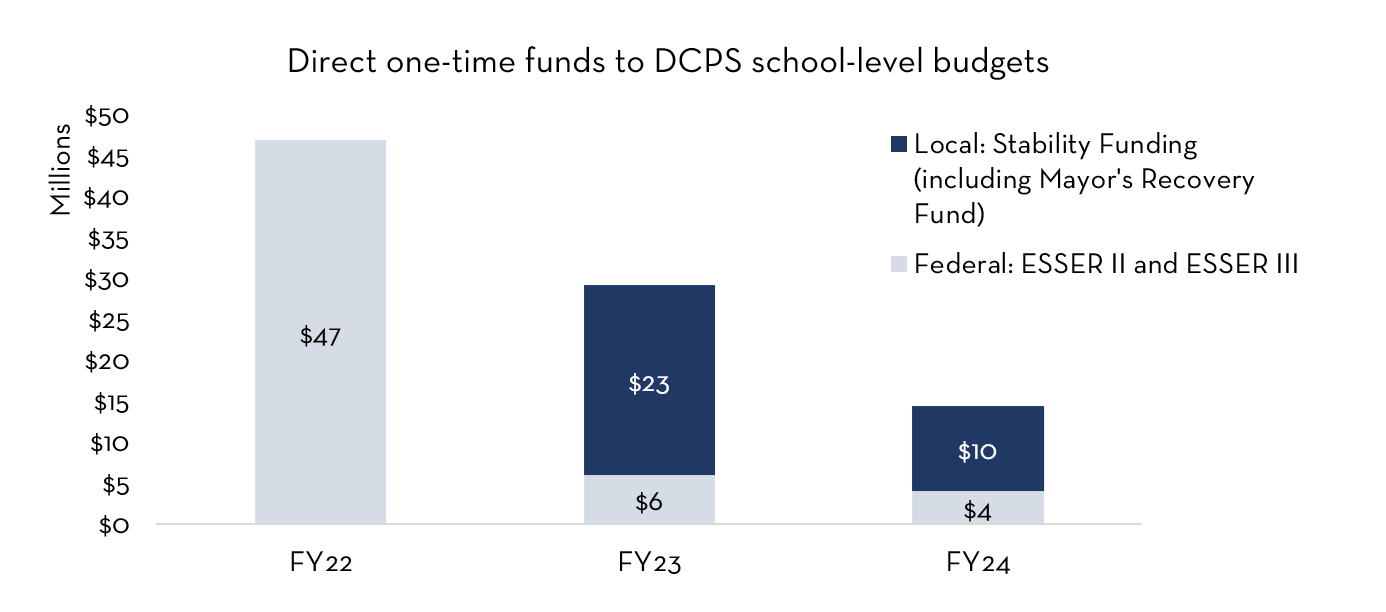 Social Media:
Mayor Bowser Twitter: @MayorBowser
Mayor Bowser Instagram: @Mayor_Bowser
Mayor Bowser Facebook: facebook.com/MayorMurielBowser
Mayor Bowser YouTube: https://www.bit.ly/eomvideos