---
Proposed Walkability Preference Feedback Survey: Please submit feedback on the proposed walkability preference HERE .
---
The following resources were produced by DME to help analyze the potential impacts of the proposed walkability preference.
Interactive Map - PK3-5 Students with Walkable PCS Living Beyond 1/2 mile from In Boundary DCPS ES, SY2015-16
On this map, users can view areas of the city where PK3-5 students enrolled in public schools in SY15-16 would have been eligible for the proposed walkability preference if all public charter elementary schools had opted in.
The map includes the following features:
SY15-16 public elementary schools (interactive)
SY15-16 DCPS elementary school boundaries
A heatmap of SY15-16 students who would have been eligible for a walkability preference, if all charters had opted in. The purple shading indicates where eligible elementary students lived as of SY2015-16. The darker the shading, the more students would have been eligible.
A DC reference basemap; zooming in allows users to view particular neighborhoods, schools, and streets.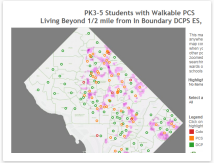 Analyses & Resources: